Digital Placemaking Category
PopMap: Transitioning to a "new normal"
by City ID
At City ID we are focussed on improving people's understanding and experience of places, transport environments and mobility services. From our home base in Bristol, and our US studio in San Francisco, we have been involved in highly renowned wayfinding and placemaking projects all over the world – from UK cities like Birmingham, Manchester, Sheffield and London, to large scale international projects in New York, Moscow and San Francisco to name a few.
As well as developing wayfinding and placemaking projects, we are probably best known for our work pioneering the 'Legible Cities' agenda in Europe and the US, which started in Bristol with the development of Bristol Legible City over 20 years ago. Since then, there have been over 50 strategy, identity and placemaking projects, the most recognisable of which is the dark blue pedestrian wayfinding system seen throughout the City Centre.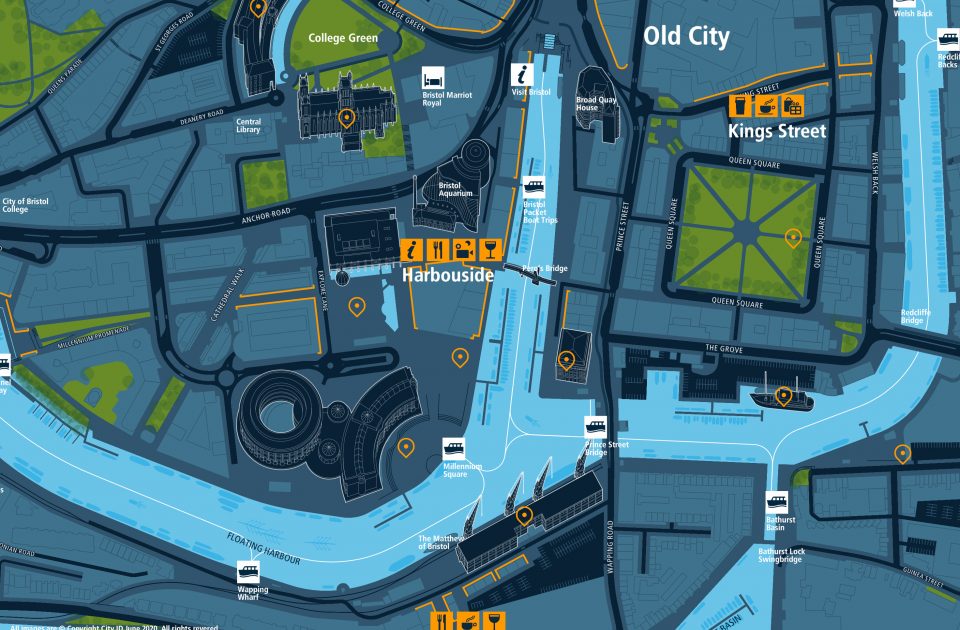 Over the last two decades, much of the information we've developed for Bristol has been expressed through static on-street information and printed maps, but there has long been a vision to update and 'digitise' the mapping resources developed specifically for this city as a mapping platform and to explore opportunities for showing hyper-local city information that you can access 24/7 on your mobile, tablet and desktop devices.
The Digital Placemaking project, commissioned by Bristol+Bath Creative R+D, gave us the opportunity to develop some of these ideas through an exciting new digital prototype called Bristol PopMap in partnership with Calvium and Bristol City Council. PopMap connects people with the events and activities that occur in the city's streets, spaces and venues, responding to your location and preferences, to reveal activity relevant to you in a time sensitive way. PopMap is about making what is so often invisible, visible. It is about revealing the quirky, hidden and surprising using the updated Bristol Legible City digital mapping resources and giving the city a unique local platform from which it can share and encourage all forms of cultural activity.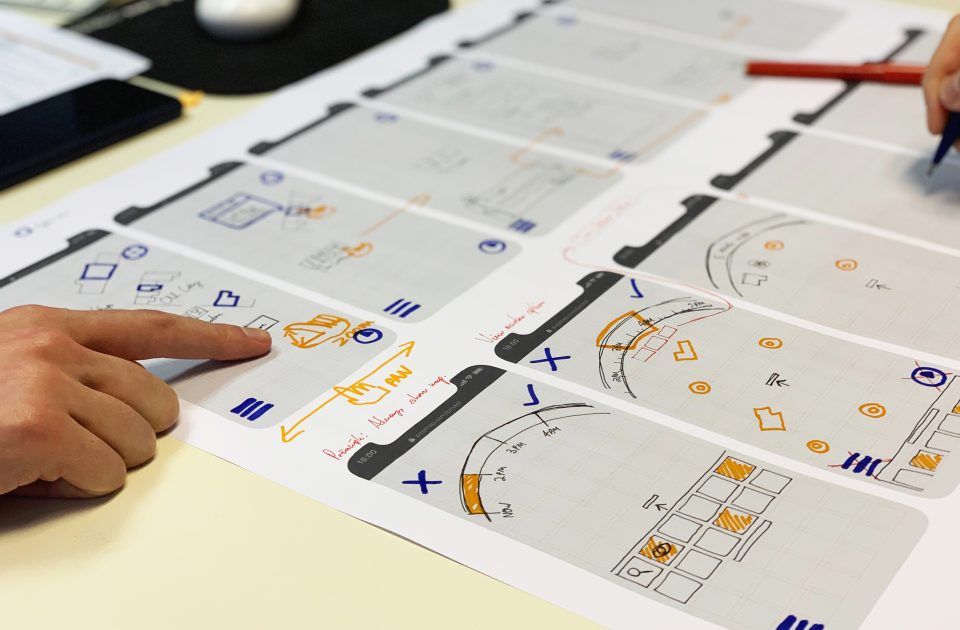 We had been making amazing progress: scraping and collating events data; redrawing and digitising the Bristol base map to make a scalable, zoomable platform (that we think reveals pedestrian space better than proprietary mapping provides); engaging key stakeholders in preparation for workshops; and understanding what existing data we could leverage, ready to showcase in May. We had been having invaluable conversations with our Producer, Sarah Addezio, R+D fellow Roseanna Dias around inclusivity, and Alex Mecklenburg from Doteveryone about responsible design and consequence scanning.
And then the world changed in a way that most of us never thought would happen in our lifetimes. Events that we had spent time collating and analysing were cancelled. People were asked to remain at home and socially distance making gatherings in public space impossible. We moved from an open studio environment to zoom calls from our bedrooms and dining room tables.
This of course presented challenges but, like everyone has had to, we adapted quickly and decided not to lose momentum by continuing to work to our original timescale. Rather than much of our pre-COVID work becoming redundant, we plan to showcase a weekend that could have been to demonstrate the idea.
________
Whilst the original concept of revealing the cultural activity that occurs around Bristol will still have it's moment in a post-COVID world, the current situation has revealed new potential and more urgent opportunities. We realised the idea is more relevant than ever, but the use cases have changed. There is huge opportunity for a platform like this to help Bristol adapt, transition to a "new normal" and become more resilient in the long-term.
The current situation is new to everyone and as yet, there is no blueprint for how to respond. Whilst governments all over the world are, quite rightly, focused on protecting their nation's citizens and supporting the economy, there has been a rise in, and immediate need, for hyper local groups to support communities and come together to offer help and share services.
Both nationwide and local responses are vital to managing the crisis - but there is also an opportunity to create additional value by focussing on the space and intersection between these approaches and the need for cities themselves to respond on behalf of all their citizens.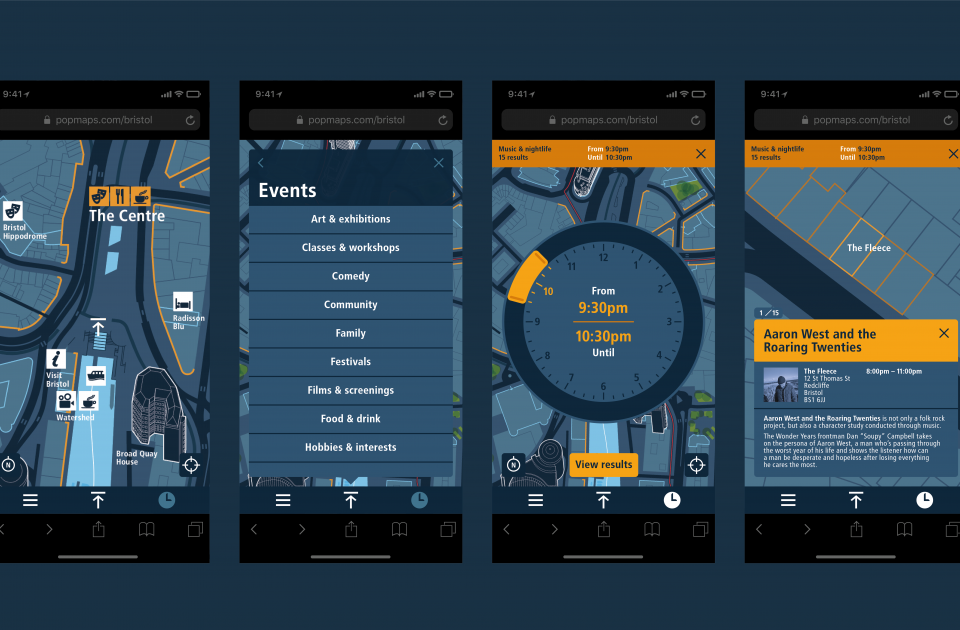 This is where we believe a platform like PopMap can support the citizens of Bristol – its residents and businesses – to aid the process of getting the city back on its feet. Whilst the original concept focussed on events-based content, the mapping application has the potential to provide an accurate, in-the-moment picture of what services are open where and when in the city. It could provide answers to peoples everyday questions that are often difficult to find out at this time through ubiquitous services:
- What's happening in Bristol right now? In my street, my neighbourhood, or across the city?
- Are the parks open for exercise?
- What is reopening now?
- What time is the supermarket open only for NHS staff, key workers, and the most vulnerable?
- Which streets and spaces have been widened and made traffic-safe, or available for new activities such as al fresco dining?
- Who is operating a local delivery scheme for groceries?
So far lockdown communications have been national in scale. The gradual or patterned lifting of restrictions now requires more nuance and may need tailoring for citizens by sector or where they are geographically. The next few months are critical and there may be further waves of lockdown and release. In these circumstances, citizens will need an ongoing picture of what is available to them and it is unlikely that global platforms will be able to respond to the hyper-local granularity, nor the urgency of information required. PopMap has the potential to help address this need for reliable citizen communications at the local level.
An immediate focus for PopMap could be retail, hospitality, culture & entertainment, & community support services. With the gradual easing of restrictions, this platform could grow to include courier and delivery services, sport and recreation, and wellbeing amenities.

"We believe a platform like PopMap can aid the process of getting the city back on its feet."
The way people move around a city is going to change drastically and with essential public transportation services increasing in frequency, and more of an emphasis on walking and cycling, PopMap could aid in revealing these networks, as well as which streets and spaces are more walkable or quieter to allow more effective and safer social distancing.

A logical, use-case by use-case approach would ensure an easily updatable resource that evolves over time in line with government guidance, the future of movement around the city, and the repurposing of streets and spaces. The impact of which could build new connections that helps cities to adapt and grow in new ways in the future – re-localising relevant digital public services, re-socialising the city, and re-energising the local economy.
________
It is the responsibility of us as designers, placemakers and citizens to do everything we can to support each other and communicate vital information effectively and without ambiguity. In times of crisis we come together as a local, national and global community, and it inspires us to think differently. The next few months and years will be challenging in as yet unknown ways, but for our part at City ID, we will continue to push our ideas and develop a platform through PopMap that can support people as we transition to a "new normal". In that time, the requirement for Digital Placemaking services is going to be imperative, and whilst we have had to adapt throughout this research and development project, the immediate need for this type of project is becoming more and more critical. We look forward to sharing it with you.