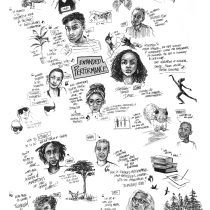 12.06.20 News
What does liveness and togetherness mean in the current context?
by Rachael Burton, illustrations by Jazz Thompson
We began the Expanded Performance Pathfinder a couple of weeks ago with our first workshop on zoom. I thought it was important to start the first workshop by returning to the theme, Expanded Performance, and I will do the same here. This is the thread that ties all of our questions and research together in a chaotic, knotty and interesting way. We're exploring theatre, dance, live music and technology.