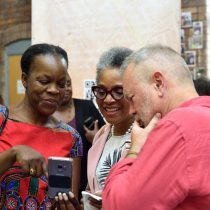 08.06.20 Digital Placemaking
Whose New Normal?
by Lyndsay Davies, boomsatsuma and Michele Curtis, Iconic Black Britons
The relationship between boomsatsuma and Iconic Black Britons is a longstanding one but the Digital Placemaking prototype nARratives project has generated much excitement and expectation for both organisations, as well as many questions. Photo by Bhagesh Sachania photography ©️Michele Curtis - The Seven Saints of St. Paul's App Launch 2019.