Digital Placemaking Category
Trusting the research journey, and the relevancy of the everyday
Digital Placemaking Fellow Shawn Sobers shares his research criteria; exploring its connection to the history and contemporary life of Fairfield House in Bath, how his research sits within the conceptual framework of 'everyday life' and its relevance to the 'real world'.
I am one of the two Academic Research Fellows working on the Digital Placemaking pathfinder for the Bath & Bristol Creative R+D programme. There are eight Research Fellows on the project, with the pairings representing other areas of interest and emphasis – Industry, Inclusion, and New Talent. The idea is that even though we each represent a particular area of interest, that we share across those specialisms and experience thinking and research beyond are usual ways of working. This hope for the project has been largely successful, with each of us challenging ourselves and entering into territories of thinking about our relationships to place and digital infrastructure that we had not appreciated before.
Coming into this project I did not have a fully-formed research project that I wanted to pursue, but I had three criteria that I wanted to fulfil for myself. My first and third agenda were quite practical, but the second takes a little more explanation. I'll explain what those criteria were, and why.
I wanted my research to be connected with some aspect of the history or contemporary life of Fairfield House in Bath.
Fairfield House is the former home of former Ethiopian Emperor Haile Selassie and his family, who lived there in exile, from Mussolini's brutal invasion of their homeland. I volunteer there as the curator of their small gallery and museum spaces, am one of the station managers of Imperial Voice Radio based there and am a director on the CIC board of trustees that manage the property. This is in addition to my full-time job University of the West of England. As I am so heavily involved at Fairfield House and have just finished quite a large research project based there, I figured it would be beneficial for my own time management and sanity if I linked this Digital Placemaking research there in some way, to build upon the research I have done there before. Although this was largely a practical decision, I knew Fairfield House had many more stories to tell, and was confident it could contribute to the thinking about digital placemaking in an interesting and unexpected way.


I wanted my research to be situated within the conceptual framework of 'everyday life'.
I have become increasingly interested in everyday life and 'ordinary' casual actions, as the holder of bigger ideas relating to human relations, individual and collective behaviour, and verbal & non-verbal communication. A few years ago I developed a methodology called 'small anthropology', in which I attempted to explore questions by examining small practical details and social phenomena, rather than using grand overarching theoretical hypothesis as starting points. Small Anthropology attempts to build the research narrative from the opposite direction, looking closely at seemingly mundane practical details, using a mixture of creative methods, to answer problems by telling stories and extrapolating the inherent allegorical and interpretative ideas. Through these intimate stories, I believe we can get somewhere closer understanding some of the bigger questions, in ways that is more accessible to the often-unwieldy language and theoretical approaches of academic enquiry. I developed Small Anthropology in resistance to the anthropological grand narratives or over-arching universal claims relating to how society works. Partly a critique of the colonial (conquering) essence of grand narrative discourse, Small Anthropology feels closer to a more participatory approach to knowledge enquiry, it feels humbler, and by definition of being less certain of its universal claims, it feels more vulnerable. Vulnerability and academic claims may appear to be at odds with each other, but in an age where long held facts are contested, and wild accusations are accepted as truth, and the knowledge of the canon is accepted as a colonial construct, I'm interested in how Small Anthropology can be used as a means to try to understand ourselves, and those close to us, and let the ripple spread slowly outwards, rather than attempting to make claims about cultures we have barely interacted with, in countries we don't speak the languages of, of people who have experienced life in ways we never have. Therefore, everyday life has become my world of interest, and the surprising stories of the mundane.


For my research to be of some use and relevant to the 'real world'.
While I have no objection to research for research sake, I tend to prefer my projects to have some use and utility in the world, and feel more comfortable when they are relevant in some to to the 'real world', especially in the proximity of the place and people that were the subject of the original enquiry.
My dive into new areas of Fairfield House's history, with notions of digital placemaking in mind, took me to unexpected territories, just as I hoped it would. I started to think about digital forms of social activity today, and what the mechanical equivalents were in the time the Emperor and his family lived at Fairfield House, (from 1936-1943). This led me to consider the pianola, (automated, self-playing piano), that we have at Fairfield House that formerly belonged to the Emperor. I heard stories and imagined the scene of the Emperor listening to device with his family, finding comfort and joy in the music, at a time when he was simultaneously experiencing extreme stress and turmoil with the reality of what was happening back home.
African American anthropologist Zora Neale Hurston said "research is formalized curiosity. It is poking and prying with a purpose." This is very much the attitude and spirit within which I entered this project and have allowed the narrative of the research context carry me along like a character in a story, not knowing where the plot is going to end up. This inductive approach as directed me along some unexpected paths, such as;
looking into the therapeutic and comforting qualities of music,
charting automated music devices from the late 1800s to contemporary digital platforms,
singing in the middle of my TEDx Talk,
meeting a gallery President whose own artwork incorporates pianola scrolls in the visuals,
writing an illustrated book about the history,
speaking with pianola experts across the UK,
visiting the Pianola Museum in Amsterdam (donating copy of book for their collection),
planning live pianola performances for the general public.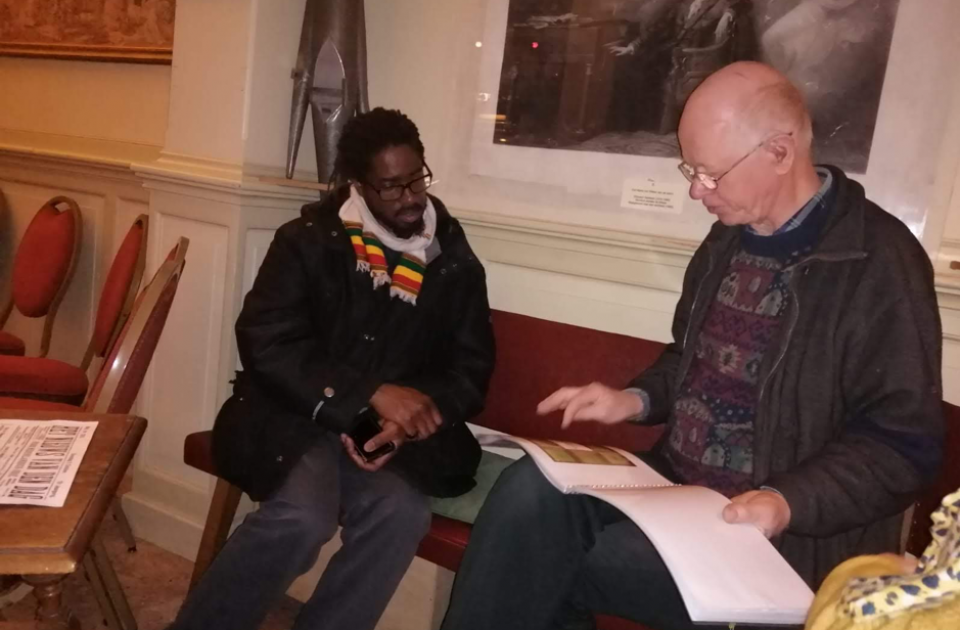 Shawn with Kasper Jansen, owner and curator of the Pianola Museum, Amsterdam, looking through the book Shawn wrote and gifted to the museum for their collection.

Final steps of research, and making research relevant
Even though this has been a jump into the unknown, albeit in a familiar space, the purposeful nature that Neale Hurston alludes to is now coming into focus. In isolation, research in pianola, a largely obsolete antiquated music device, could be considered interesting but largely useless, a self-indulgent academic enquiry, that would contradict my second agenda, of wanting my research to be useful in some way. Looking into the role of music in relation to therapeutic ideas has brought the research closer to that aim, and the next stage of the project will bring that full circle. In 1958 the Emperor left Fairfield House to be used by aged people, and it is still used for that purpose today, with the resident organisation being the Bath Ethnic Minority Senior Citizens Association (BEMSCA). I will be working with the senior citizens (including my own mother) who use Fairfield House as their communal social space, exploring how music features in their lives, and what songs gives them a sense of comfort, joy, and sanctity. Their voices and music choices, interpreted in new piano scores, will be digitally rendered in different formats, designed in ways that brings the physicality and presence of the pianola, and the visibility and accessibility that digital formats allow. I want the elders to hear their own voices, and to bring a smile to their faces.
I look forward to the next stage of this research journey and brace myself for any final unexpected twists and turns that may lay ahead. It's been a fascinating journey so far. The key with any project is knowing when to finish, and what threads (if any) to take into a further stage. Sometimes when I explain to people what I'm researching into, at first they look shocked or confused, (possibly thinking I'm crazy), and after I explain they admit it makes sense, and start to contribute further ideas. For me, that is exactly the reaction I want from research - for mundane or unexpected starting points to resonate and feel familiar and relevant, especially to non-academics, and to generate further conversation and ideas.