Expanded Performance Category
Show Your Workings
by Gill Simmons
I take the title of this blog from one of Kathryn Welch's recent excellent tweet sequences: #LetsGetStarted
I strongly encourage you to read all 31 of Kathryn's post-it notes here, because they are EXCELLENT.

So first, here's quite a lot of transparency about me and Brave Bold Drama in the form of a very short film.

When I first heard we'd been accepted as an Industry Partner I was of course very pleased. And quite surprised. When I first saw the call-out I wasn't sure our work was complex enough to be considered. We definitely did live performance and music but there was a lot of language in there that I'd not ever thought to associate with our work before. I'm learning now that actually we do know quite a lot about things called 'outreach', 'engagement', 'community' and 'audience'. I've even been approached by the Bristol Improv Theatre and M Shed in the last couple of months to consult with them on 'community engagement, outreach and audience development' and I'm choosing to assume that must count for something.
What did we think we'd be researching? Our original question was:
Does the inclusion of technology in a performing arts offer mean young people aged 13+ from lower socio-economic backgrounds are more likely to participate?

I wanted to ask this because I'd seen 80+ young people from Hartcliffe and Withywood show up for mural painting and film-making projects, but not one turn up for a totally free offer of a youth theatre project we were commissioned to run by Future Quest in partnership with Bristol University. That project never happened. It was going to happen with a Brislington School instead, but lockdown put pay to that particular plan B.
I've repeatedly seen how important and powerful engaging local young people from my local area (one of the most deprived wards in the UK) can be from previous projects. Brave Bold Drama took young women from Withywood and Hartcliffe to dance at City Hall for International Women's Day 2019. We helped a young woman from Hartcliffe gain a Silver Arts Award in 2018 which supported her successful application to join a post-16 graphic design course with Boomsatsuma.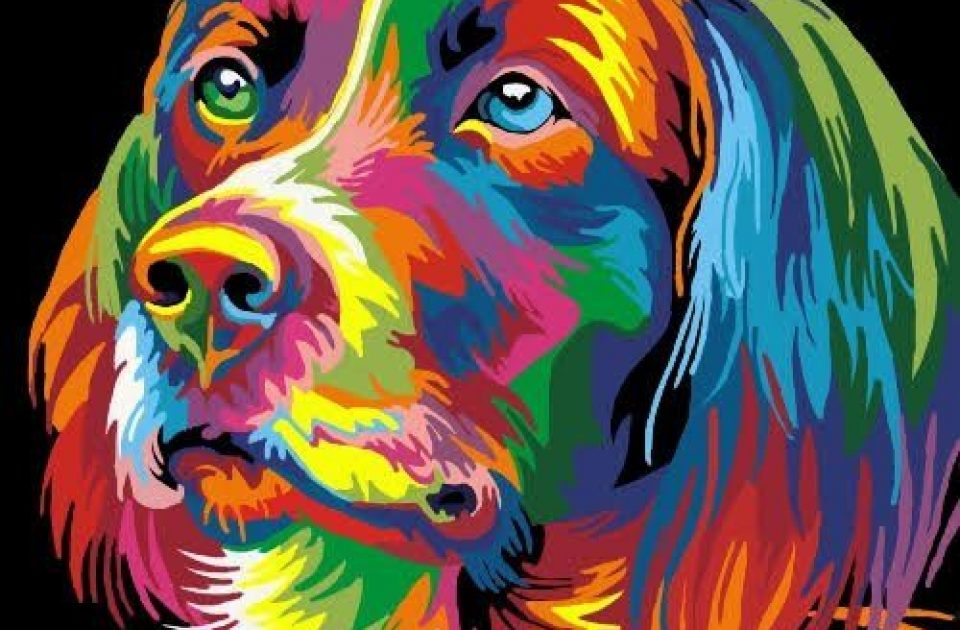 Unsurprisingly, researching what young people think about anything at all when secondary schools are closed because of an international pandemic proved a massive stumbling block. Initially we were going to work remotely with Merchants' Academy on this research, but the goalposts kept moving so much for schools during lockdown that they were unable to sustain anything because they were simply firefighting.

So we let the school be and instead tried to connect with Bristol youth organisations who were doing online engagement. Unfortunately, many had staff who were furloughed immediately meaning emails went unanswered. Sometimes we would get a bit of a way along making arrangements but then that staff member would be furloughed, often without any kind of warning, which stymied the plans we were making for remote consultation with young people from being seen through.

So instead we tried to find out about previous projects from anywhere in the country for 13+ that had included technology within a performing arts offer. We would ask if there were any evaluation reports we could see about completed projects that could just be attached to an email and pinged back. Turns out no-one really does that. Many emails were never answered. Or we'd get a response along the lines of "The only evaluation we have for that project was for the funder, so it would not be appropriate to share it with you". So we asked for 30 minute chats with people instead of evaluation reports, thinking surely people would want to talk about their projects. Not many takers. But SOME takers.

Derby Theatre went the extra mile and gave us an insightful and generous hour's zoom to discuss their #Reimagine2020 project. I was made welcome at their online #FutureProof symposium by York Theatre Royal. I also connected with south London-based Bounce Theatre who invited me to talk with young people on their The Female Voice podcast in late August and will be keeping me posted on how the podcast project went. Fellow cohort member Tanuja Amarasuriya of Sleepdogs talked generously with us about their Stonehenge 3019 project. The Real Ideas Organisation also gave us an extended phone-call and a socially distanced face to face meeting.

We also approached arts organisations who were running performing arts offers that included technology for 13+ during July/August 2020.There were a LOT of remote offers using tech this summer, as you can imagine. No takers.
Whenever I raised this pretty widespread reticence regarding larger arts organisations not wanting or being able to share information about their outreach projects within the Expanded Performance cohort, at some point someone would say something along the lines of, 'Well, what's the incentive? What's in it for them?" At least two large arts organisations said they could only contribute to our research if we paid them. Yes, we were given a research grant of £5K to do this. In the interests of transparency, here's a graphic on how we've decided is the best, most sustainable way to allocate that money.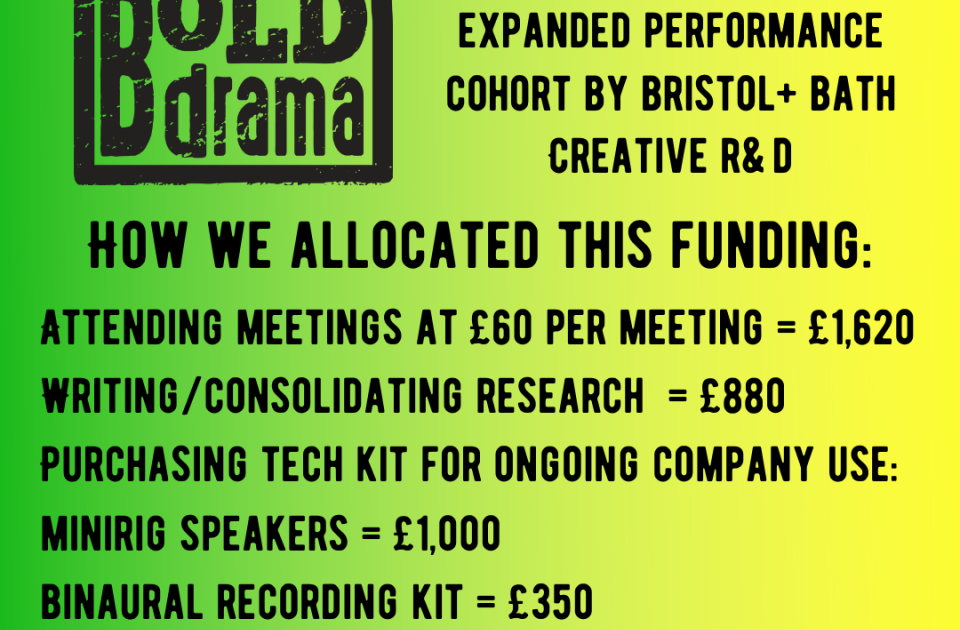 We are using the majority of our research grant to purchase technical equipment that will have far-reaching and long-ranging applications in our future community work. For example, the binaural recording equipment will be first used in October 2020 on an audio-story project we're creating remotely with care home residents in Weston-Super-Mare. We're learning about how to make and use binaural recordings thanks to James Wheale, a Pervasive Media Studios resident, and we were introduced to him as a result of being in this cohort. That was an unexpected bonus outcome and we're really excited about it.

Now maybe I'm being naive, but it really didn't feel fair that large arts organisations, whose accounts ran to multi-millions (you can look them up on Companies House) who were paying salaries (and were therefore able to benefit from the furlough scheme) were asking us, two totally unsupported freelancers with pretty much only this research grant to support us for those months, to give them money. We didn't proceed with those requests.

Also naively, I'd assumed at the very beginning of this process that Brave Bold Drama being associated with Bristol + Bath Creative R&D would mean people would want to support our research. After all, Bristol + Bath Creative R&D is a very impressive organisation that has four major south-west universities and Watershed as partners. It has genuinely surprised me that being in this cohort has had very little impact on many arts organisations we reached out to. I am still surprised that we got almost no responses from any Bristol or Bath based organisations. I had assumed that local organisations in particular would want Bristol + Bath Creative R&D to know about their work. I'm still surprised by that.

Yes, I know there's a pandemic. But I just don't think we can use that as an excuse for everything. At a time when the spirit of community has been in so many ways stronger than ever, it just seems a shame and a surprise that all our attempts to learn from outreach projects being run by so many bigger players in the arts field have fallen at the first fence. If that's not too much of a mixed metaphor.
Anyway, some of our actual questions now are:

Why is there no established culture of arts organisations fostering learning between each other by making information about their outreach/community/audience development projects public?

Is it a coincidence that apart from the Real Ideas Organisation, most of the generous support we received during this research has been from organisations who are not south-west based? Is it because we're seen as less of a threat to their funding streams because we're out of area?
If so, how can we overcome this territorial mindset so we can all grow and improve? Do we need to make the the major funders aware that this is happening so they can make changes to incentivise transparency, to create a culture that it's ok to share the struggles and show your workings?
Katie Chalk is an undergraduate from Bristol University who worked with us from June - August on our research thanks to a COVID-19 SME Internship Fund grant from Bristol University which paid her a living wage for her work with us. You can read her blog about her time with us here.

During one of our zoom meetings, Katie mentioned that her friends reading science were very familiar with the concept of peer review. Now there isn't time here to go into how arts peer review could work in detail, but it still got us wondering,

Why don't the arts often use any kind of peer review, in particular when it comes to outreach or community arts engagement projects?

Currently, artists and arts organisations are, on the whole, quite reluctant to share their workings. Websites and impact reports focus only on the successes of outreach projects, rarely on the challenges and how these were overcome. Yet, as Kathryn Welch quite rightly observes, "transparency...helps others appreciate...where the struggles are...and how they can help."

I believe that developing a culture of showing your workings with regards to community/engagement/outreach projects, particularly those that have happened because of public funding would result in better outreach projects. And surely that should be incentive enough for anyone, salaried or freelance, who is involved in outreach arts work?
So we are walking our talk. Starting small but starting somewhere. If you visit this page on our website that details our past projects with young people, you will find downloadable 2-page evaluation reports that share the challenges as well as the successes of these projects. This hopefully means if you wanted to try something similar, you could perhaps learn from these evaluations. We invite others to do the same! Show your workings, share your struggles, make this information freely and transparently available so we can all learn and do better! After all, no-one's perfect, no matter how famous your logo might be.

I've also committed to responding to emails requesting information or advice about any of our community work within 10 working days. Sometimes it might be "Hey, thanks...very up against it until next month I'm afraid but I will get back to you in more detail on this by this date. Hopefully that will still be useful to you?" Or whatever. Because being totally ignored is rubbish. Or maybe people could make more explicit on their websites whether they can or can't answer research/learning enquiries about their work? That could help.

One of the other questions that has emerged from this research is:

What changes need to be made so it's easier for artists and arts organisations to work with state secondary schools in a meaningful and sustainable way, a bit like they used to in the early 00s when I was first teaching and there was an amazing thing called Creative Partnerships?
But when I discussed this bit with Matt Little from The Real Ideas Organisation he said it made his brain explode. In a good way. But I took that as a sign that that's a question for another day. And another research grant.

I will be presenting a more detailed, hopefully useful and not too boring report that blends film/sound and text in some way by the end of the year. I can't be pressed on an actual deadline I'm afraid.

If you'd like to check in with this report, I encourage you to follow Brave Bold Drama on social media and if you're really keen to also sign up to our newsletter so you know when it is published.

Thank you for reading.