Expanded Performance Category
Reflecting on community co-creating and emerging technologies
by Roxana Vilk
I am a multi disciplinary British Iranian artist often working across genres, in music, film and live performance. My practise often addresses the themes of human rights, cultural identity, heritage, inclusion and migration. My research question and initial thinking is around the question
"How can emerging technologies allow us to Expand Performance to include communities throughout?"
I want to start by examining this question through the lens of my own current creative practise and specifically the community co-created Lullabies project I am working on. I want to see how inclusively I can start to bring in and work with new technologies in a community setting. Let me start by telling you more about the project.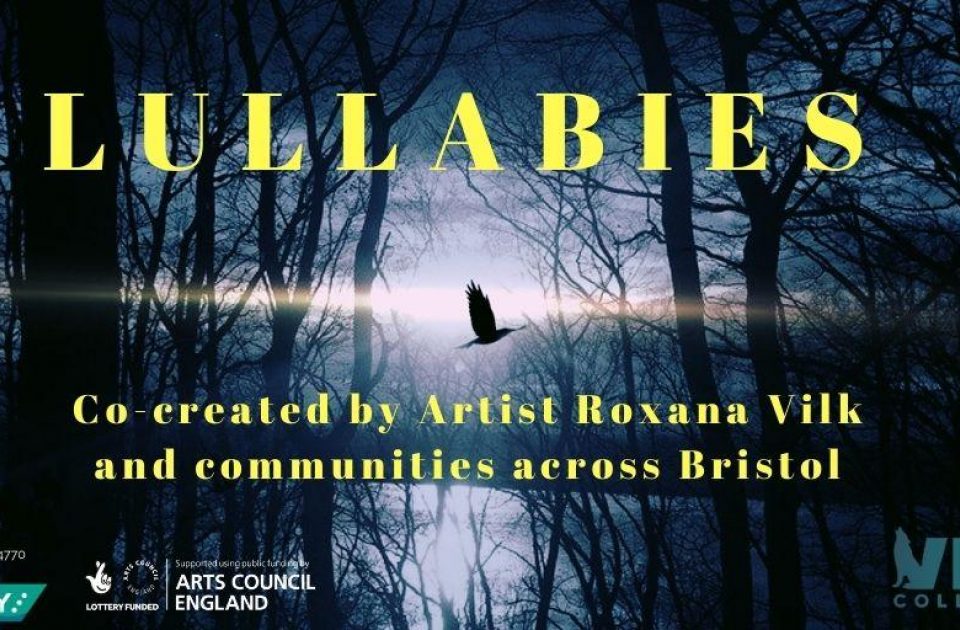 Why Lullabies?
The idea for the Lullabies project came very instinctively. One night, after singing an Iranian song to send my son Darius to sleep, I was looking out of my window and imagining how many others might be singing songs in different languages to soothe children. I was curious to hear those songs and equally, the stories behind the songs.
I have been singing Iranian songs to my boys as lullabies since they were babies, and it is the one moment of the day when I feel this strong invisible thread connecting me back to my motherland and passing that heritage on to my children. As I started recording and interviewing people I realised that this invitation to share a lullaby became a deeper conversation about identity, parenting, heritage and homeland.
I wanted to celebrate the incredible rich diversity of cultures in Bristol – there are over 90 different languages spoken here! However, we are living in a time when that diversity is being threatened by constant divisive political rhetoric and race crimes are on the rise. I wanted to dream up a community-led artistic project that brings us together though the commonality of lullabies. I also knew I wanted it to be from the heart, emotional and moving – something that we can all connect with.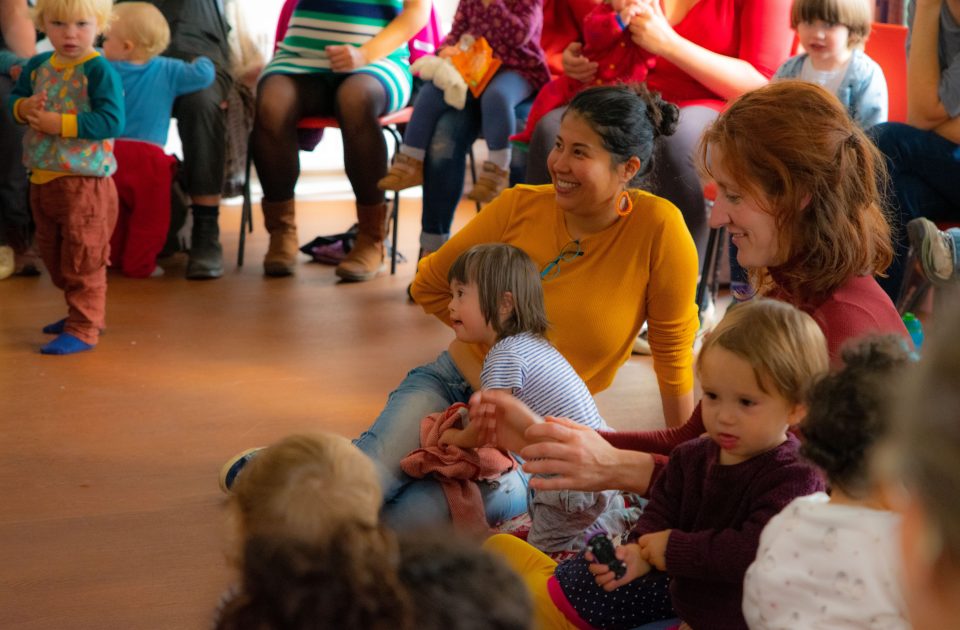 As part of my Artist Residency with Trinity Centre and with additional funding from ACE we started a R+D phase to develop the project, through a mixture of workshops in community centres and with refugee groups as well as private and one to one interviews. We collected and shared lullabies from Kurdistan, Somalia, Palestine, Cuba, Hungary, Japan, Germany, Columbia, Ireland, Scotland, Wales, Iraq and Israel to name a few. We shared stories about homelands, about ancestry and also about the practicalities and challenges of dealing with a baby crying in your arms in the middle of the night. How often in that difficult moment from deep within us a song, maybe one that we had long forgotten, comes to us and we sing it. Also what is a lullaby? Maybe it can be anything, a song, a long note, a whisper or something you invent in the moment. And who is soothing who? Is the song soothing the both of you? I mean as far immersive experiences go, what could be more immersive than a lullaby when you are held close to the heart?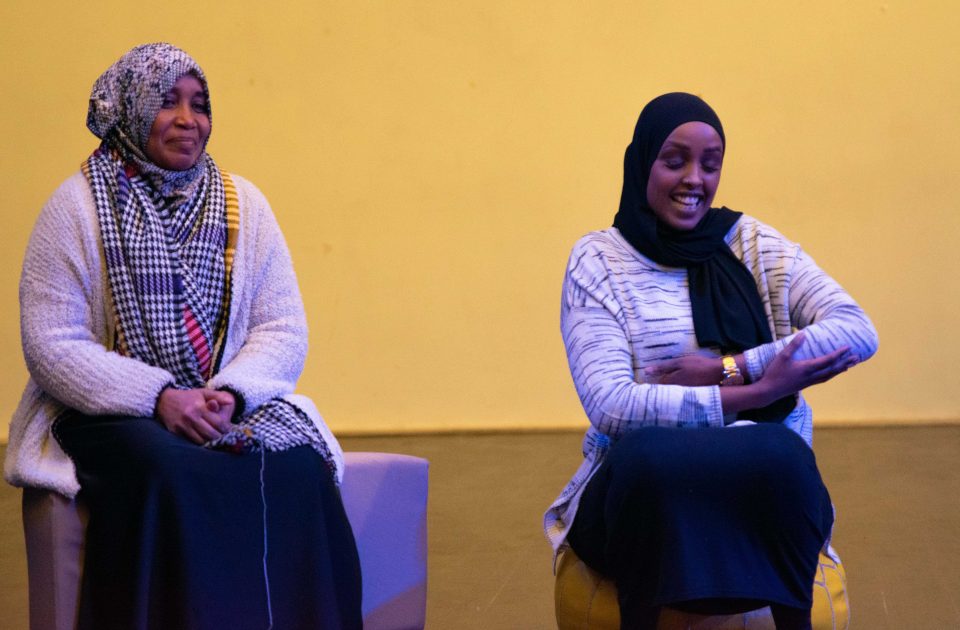 What of those who didn't get to be sung a lullaby? I remember poignantly a story from Maryam, one of the first participants I interviewed. She is a wonderful a Somali singer and mum of two boys. She told me that she grew up as an orphaned street child selling ice creams in the city and that she was never sung a lullaby. However, when she finally had her own kids and first sang them to sleep in Bristol, it was as if a golden light was being shared from deep within her to her kids and connecting her back to a mother she never knew.
Then I collaborated with a team of creatives and the participants to create public sharing of the R+D of the piece; a mixture of film, sound design and live performance. After the sharing we invited ideas and thoughts from the community and audience involved on how we could develop the piece. Here is the 3-minute trailer from the sharing:
Lullabies does lockdown
Just as we got the green light with funding to start the next step of our community outreach programme across Bristol, lockdown happened. So like many, we tentatively took the project online.
In June, we ran our first ever online Lullabies Zoom workshop. Which had its own technical challenges in terms of how to keep a 'live' feeling of music through Zoom and how we could create a sense of singing as a group. But for me the real challenge was that of inclusion. What happened next was a real indication of how 'exclusive' the online world suddenly became for our lullabies project.
As soon as it became about access to Wi-Fi, access to Zoom and access to computers or a smart phone it cut out entire groups of participants. This seems obvious of course from the outside, but when I saw it clearly in my own creative practise it was really quite a shock. The project felt like it changed identity overnight. By taking it online we were simultaneously opening it up to global reach and closing the door to others in the heart of our communities.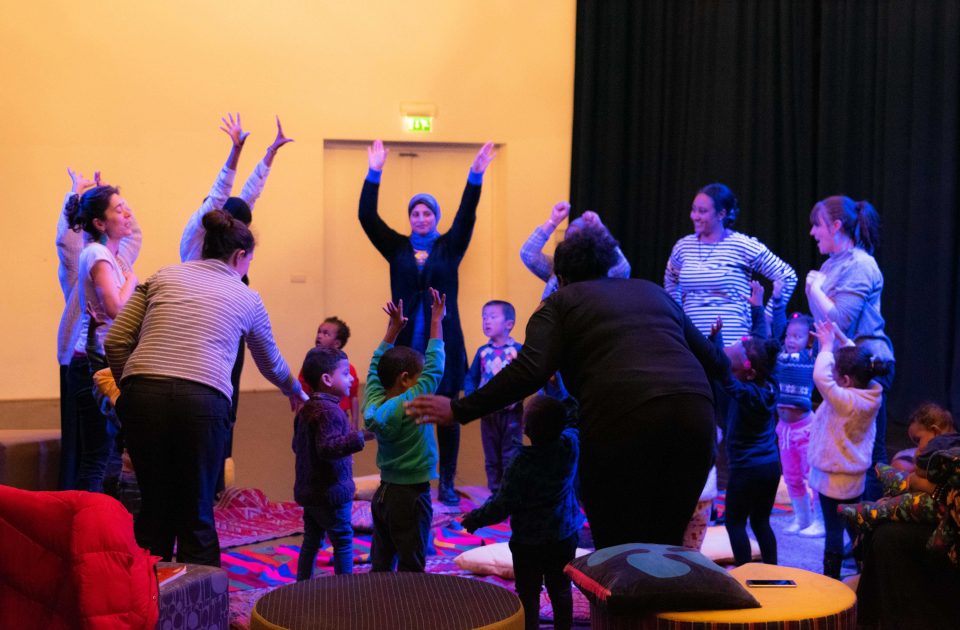 Of course there were positives. By taking it online, we reached a much wider audience and BBC News ran an item about the project. We suddenly had people from India, Slovakia, Australia and America wanting to get involved and sending in their lullabies. It was beautiful actually how deeply people connected with it. In one sense, yes, it confirmed the universality of the theme but it no longer felt like the inclusive community project we were growing. It was like we ripped the roots right out of our tree.
This made me ask deeper questions about who gets to have access to technology, how lockdown made it even clearer that we have a huge gap in access, in basic computer skills, and also in tech training opportunities for our communities. It also made me re-visit the values and intentions of Lullabies project. How it was always meant to be a Bristol centered story.
On reflection, maybe instead of opening the creative process to a global audience online, it was about the opposite. I needed to keep building it from inside the communities in Bristol. Then once we were ready we could open up to sharing it online for a global interaction.
Also the various online experiences I had with Lullabies project during lockdown, made me reflect that the strength of community engagement still lies in the human interactions. Those shared moments of stillness as a group when you listen to someone's moving song and story and the ability to be present and embodied for them, allows for a much deeper and trusting interaction. None of that felt really possible online.
It also made me rethink in a positive way the relationship to new technology in the project. I wanted to access ways in which I could use new technologies which had the invitation of participation and inclusivity at their core of their intentions.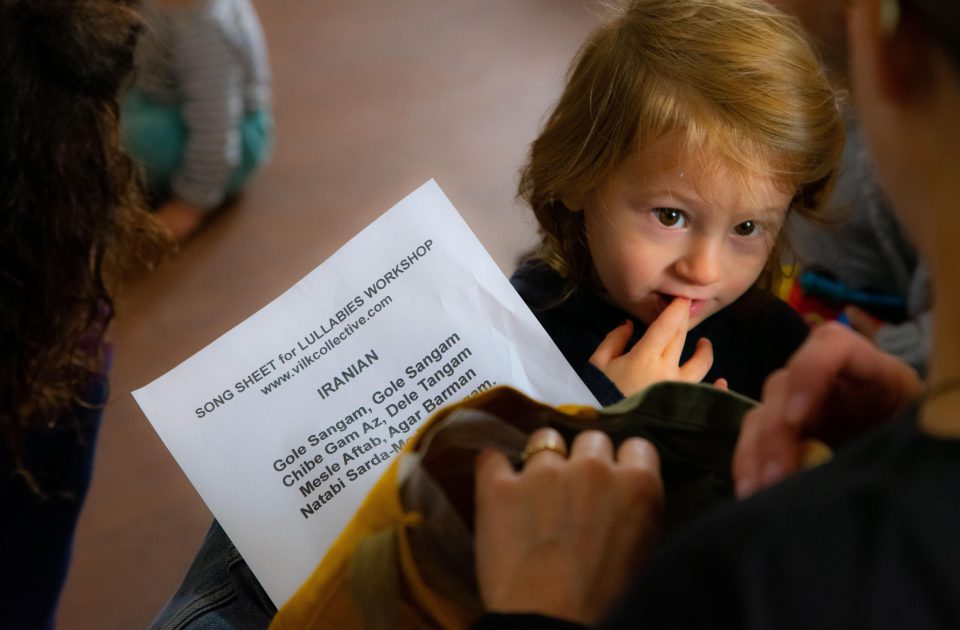 Adaptive Podcasting and Binaural babies
It was around that time we had a seminar from BBC R +D with Chris Pike and Ian Forrester. Their seminar really grabbed my attention. Ian shared with us brilliant ideas around adaptive podcasting which I had never heard of before. You can read more about Adaptive Podcasting here. At the core of the software development around adaptive podcasting is inclusion and the invitation and accessibility for users to create their own adaptive podcast. This chimed deeply with our intentions with the Lullabies project in terms of expanding the performance with new tech but in an accessible, inclusive and participatory way. I have now started a conversation with Ian about the Lullabies project and with the super talented Rebecca Saw, a freelance developer specialising in Interactive Narrative. We are currently researching ways we could create something special with the Adaptive Podcasting software for the Lullabies project for spring 2021. I am currently applying for Arts Council England Funding to work together on this - so fingers crossed.
We also had a really inspirational presentation by Mike Large and Oli Jacobs from Real World Studios around binaural sound and technology. Which really got me thinking about how the lullabies project could benefit from truly immersive sound experience. A challenge I had faced so far, is that when I took my Zoom Microphone out to interviews and asked participants to sing a lullaby, it often became a 'performative' version of a lullaby song and not as soft and soothing as it may be if you were a baby. Nor have my recordings so far been binaural. During a meeting with Real World, Mike Large had a great spontaneous idea and said "What if we could invent a 'binaural baby' that would allow the singer to sing the lullaby as if it was a baby in their arms?". This was just brilliant. The performance of the song would therefore have a very different quality and we could explore this quality in how the listener experiences it in their headphones, almost as if you were being sung to as a baby again.
We are at the very beginning of exploring this exciting avenue. I am really curious how this could develop. If we can't perform the piece to a large audience, maybe the work will be a binaural adaptive podcast experience through Bristol streets at sunset or you can also experience wrapped up in your duvet in bed.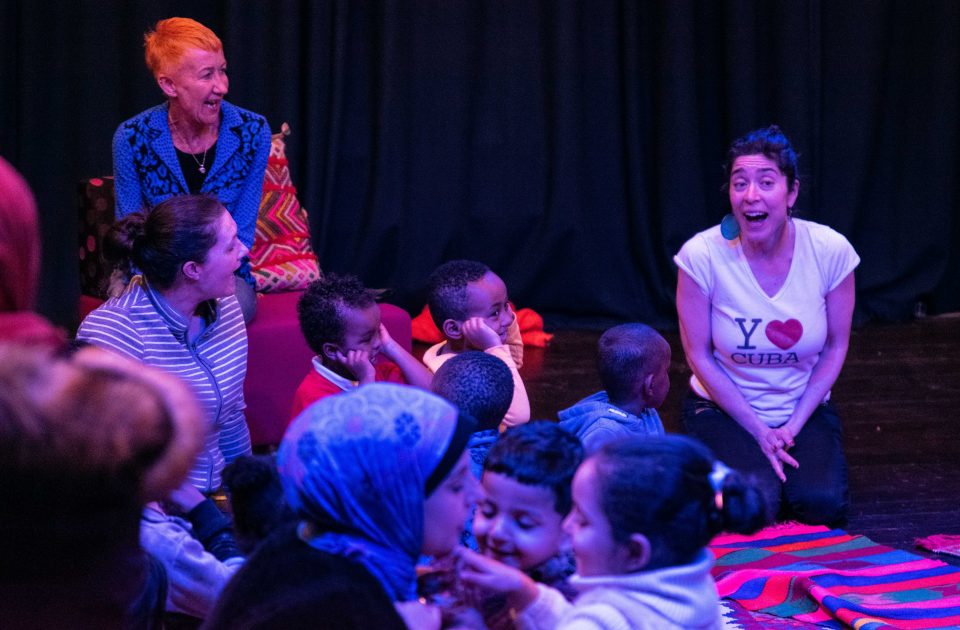 I am still mid-process with all of these ideas, asking more questions than having answers. I am ok with that. One of the personal challenges for me on this fellowship is being comfortable with not knowing and giving myself the time for reflection. Often as a freelance artist my work is so orientated around delivery of a project that time and resources for deep reflection feels like a luxury I can't often afford. Turns out that this opportunity for reflection and creative conversations with our cohort, which the fellowship allows, is taking me in a whole new direction creatively with new technologies. Terrifying because I have a lot to learn but also challenging in an exciting way.
Please feel free to reach out to me about this research and my project. I am really enjoying the art of conversations around these themes so would love to engage with any questions you have. roxanavilk@gmail.com
Image Credit: Alexa Ledecky