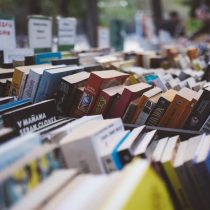 17.09.21 Amplified Publishing
Is this really the future?
by Tom Abba
Tom Abba is an Academic Research Fellow on the Amplified Publishing Pathfinder, he is also an Associate Professor of Art & Design at UWE Bristol, and since 2016 has directed the Ambient Literature research project. He is also a writer and artist whose practice addresses the form and content of both digital and physical books, alongside hybrid forms of the two. In this article, Tom explores how content is made and published in the publishing ecosystem and how independent content creation can be supported to thrive in a range of industries and with a range of audiences.